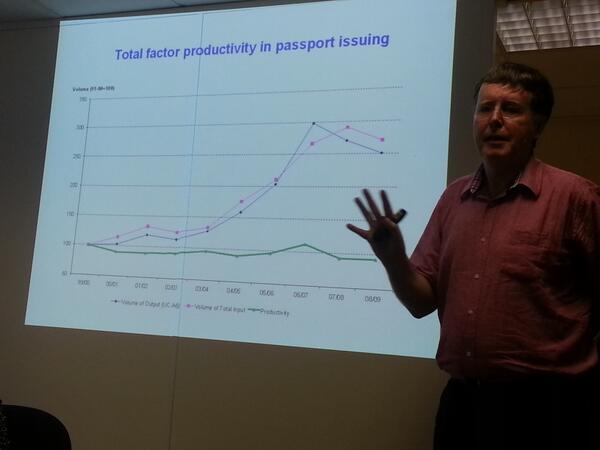 Prof. Patrick Dunleavy from LSE spoke at the Social Market Foundation think tank about productivity in government: what productivity is, how it's measured in government, and how to increase it.
Prof Dunleavy said that the way to greater productivity is:
– Co-production with citizens
– Digitising services to give power back to citizens about their own health etc.
– Continuously incrementally developing and adapting services (iteration) rather than restructuring in a big bang
After the talk I asked Prof Dunleavy what he thought about contractors such as FutureGov. During the talk he said that consultants decreased productivity in government. He said that design in government is nascent and design contractors are different from management consultants – we certainly need design consultancies involved in government now.
He is aware of IDEO and the Design Council, and has vaguely heard of FutureGov. The book he is writing now is about design in government.
He believed that design in government is a way out of our current issues. Behavioural insights will play a part too. I believe there are many ways of making this happen. It could be:
– Government working with design consultancies
– Government building in innovation job roles into their organisational structure, with career progression, and recruiting designers directly
– Civil servants training as designers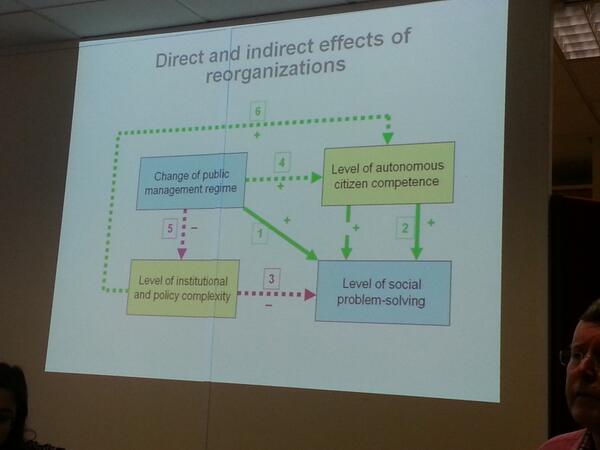 In my opinion, whatever way it happens – probably it needs to be all three ways and more – there needs to be a cultural shift where new ideas are built upon rather than shot down. Councils can be fragmented in the way they operate, and rigidly hierarchical, with subtle power struggles. They are wary of new ideas because their departments get reorganised every few years. This is not a receptive environment for testing out innovative ideas in public services that might just make the differences we need to see in terms of budget and quality.
From my experience at Surrey County Council, people were jaded because they weren't able to see good ideas through. Good ideas frequently got blocked and remained untested. There needs to be ways for intrepreneurs to test out ideas in a quick and dirty way, which won't cost much, and lead to deep insight and continuous adaptation of service.
It doesn't need to be difficult to test ideas. The important thing is that you make a start – 'just do it' as my design tutor used to say. How can the barriers to testing ideas be lifted? One way would be to increase interaction between citizens and council staff. Any time I suggested inviting in citizens into County Hall for quick and dirty testing, I was met with huge resistance from all sides. (And I didn't even phrase it like that!) I needed longer than 6 months to allow people to feel comfortable enough with the idea of allowing citizens into County Hall. It's more of a radical change than you might think.
Beyond that, we will need to develop a way to demand a big range of ideas about service improvement, and rigorously test and develop what might work: then find a way of getting the powers that be to allow great ideas to be piloted on a small scale. There are plenty of people with good ideas in local government: but they are not in an environment where they are encouraged to test out ideas on a small scale, and they often don't have support from their seniors.
I am a designer with public service design experience: I have helped develop service change propositions in partnership with government staff, I can facilitate co-design sessions, and help build innovation capacity of government staff. I have successfully designed and implemented a programme that affected visible cultural change in Surrey County Council. If you know of any opportunities for me to be an innovator in government in any capacity, please get in touch.